Jun
30
Sun
2019
AFD SOUTHPORT, MERSEYSIDE.
Jun 30 @ 10:00 – 17:00
AFD SOUTHPORT, MERSEYSIDE. SUNDAY 30th JUNE 2019.
Come to Southport and show your support.
All attending on motorcycles not wanting to ride in the precession are asked to park out side the Heart foundation shop, PR8 1AA, 116 little Lord St adjacent to Christ Church.
The parade will leave Chapel St 1030 led by the Band of the King's Division, going down Hoghton St, Hill St Lord St past the Cenotaph to the Town Hall and Gardens where there will be vintage military vehicles and WW1 Sopwith Camel Biplane. The Band of the King's Division will play to entertain as will as Vintage live music. There will be a fly-past of a DAKOTA.
ALSO. I and now confirm that from 1230 to 1700 there will by a RBLR Stand in the SHIP and ANCHER in Cable St, between the Cenotaph and the Carousel. Steve and Charlene will be supplying a buffet. All Welcome.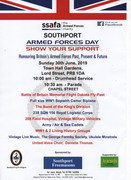 N. Lewis
Jul
17
Wed
2019
End to End and Back Again
Wednesday 17th July 2019 at approximately 05.00 I will be leaving Lands End and aim to be in 1John O'Groats by 22.00.
The following day on Thursday 18th July, 2019 I will be returning to Lands End aiming to return by 22.00.
This is a personal mission, but please feel free to come join me for part of my journey.
Further details at https://www.facebook.com/End-to-End-and-Back-Again-Trike-Challenge-300954970612270/
Nov
10
Sun
2019
Burnley Cemetery Rememberance Service hosted by the RBLR
Nov 10 @ 10:00 – 11:30
This years Parade at the Cemetery Burnley this year, falls on the 10th November 2019.
This will take place at
Burnley Cemetery Rossendale Road Burnley Lancashire BB11 5DD
This is aimed at Bikers for Bikers and is run by the RBLR, although all are welcome to attend.
Gates open 10.00 bikes to be parked up by 10.40
Cars if you must. Are parked at the back of the Chapel of Rest.
10.45 Gates Closed for safety reasons no exceptions, any arriving after that will have to park further down the road.
10.50 quiet reflection.
10.55 Service starts.
11.15 Service ends.
Have a great day and I'll see you all there.
Iddy