When:
30th June 2019 @ 10:00 – 17:00
2019-06-30T10:00:00+01:00
2019-06-30T17:00:00+01:00
Where:
TOWN HALL.SOUTHPORT.MERSEYSIDE
Lord St
Southport
UK

AFD SOUTHPORT, MERSEYSIDE. SUNDAY 30th JUNE 2019.
Come to Southport and show your support.
All attending on motorcycles not wanting to ride in the precession are asked to park out side the Heart foundation shop, PR8 1AA, 116 little Lord St adjacent to Christ Church.
The parade will leave Chapel St 1030 led by the Band of the King's Division, going down Hoghton St, Hill St Lord St past the Cenotaph to the Town Hall and Gardens where there will be vintage military vehicles and WW1 Sopwith Camel Biplane. The Band of the King's Division will play to entertain as will as Vintage live music. There will be a fly-past of a DAKOTA.
ALSO. I and now confirm that from 1230 to 1700 there will by a RBLR Stand in the SHIP and ANCHER in Cable St, between the Cenotaph and the Carousel. Steve and Charlene will be supplying a buffet. All Welcome.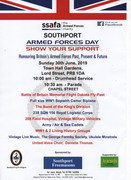 N. Lewis