When:
2018-05-27T00:00:00+01:00
2018-05-28T00:00:00+01:00
Where:
Churchill Arms
Alderholt
Fordingbridge SP6 3AA
UK

CALLING OTHER MEMBERS FOR SUPPORT

Good evening all,
Our last County stall in May will take place at the Churchill Arms in Alderholt on Sun 27 May 18. Wheeler Motorcycle Events and the Churchill Arms are holding a Beer and Bike festival that day. Gerry and Deborah have volunteered once again to run our stall. Gerry has requested volunteers to help him set up and collapse the stall. Unfortunately there were no volunteers from our meeting last night from members that were present. I am now calling out to other members that can spare a day to assist Gerry and Deborah on that day.
Churchill Arms,
Daggons Road,
Fordingbridge,
SP6 3AA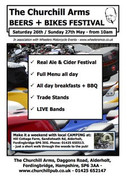 Please list your names on the forum post if you are able to assist.
Thanks in Advance