The History of the RBL Standard
The Royal British Legion Standard, original designed in 1922 by Colonel E C Heath, the first General Secretary of the British Legion. It made it's first appearance in June that year at the Crystal Palace Sports Day.
It was first paraded as the National Standard at the Annual Conference Cenotaph Service in 1924, on Whit Sunday. By the end of 1928, one in every three branches had their own Standards.
The Standards should be looked upon as the rallying point of the branch, and as a constant symbolic reminder of the Legions motto "Service not Self".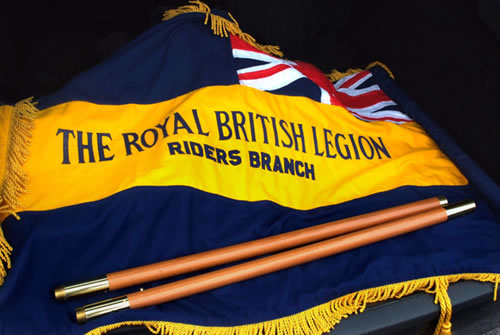 The Riders Branch Standard
Due to the size of the Branch we have two Standards, one in Staffordshire and one in West Sussex.
The second Standard was Dedicated in 2011 at a moving ceremony at the National Memorial Arboretum.
Our Branch Standards are currently paraded at many events all around the United Kingdom by our two Standard Bearers, Garry Edwards and Ray Collins. We have, however, many standard bearers within the branch who carry standards for local branches.
For more information on the Riders Branch Standards and where they are to be paraded please contact the Branch Standard Bearer by emailing Click Here To Email